For as long as I can remember, two famous flower fests have been held in the back of my mind as must-visit destinations. Although the Japanese cherry blossom festival remains on the to-do list, living in London gave the perfect opportunity for a day trip to Holland's tulip festival. Not exactly the reason most young people (or young-ish, if I'm being honest!) travel to Amsterdam, but I was going to Keukenhof!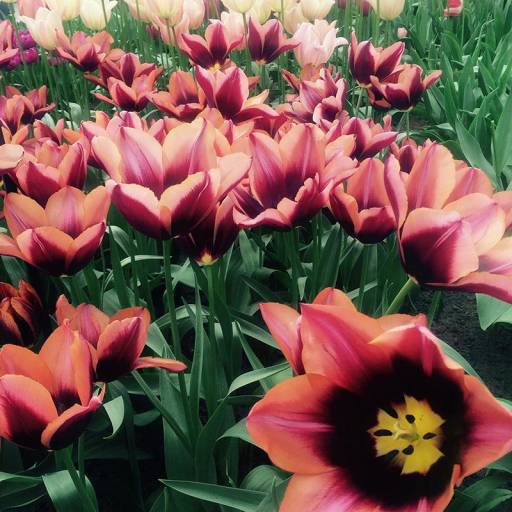 Keuken-what?
Keukenhof (closest to American English pronunciation: Coke-en-hoff) is the name of this wonderful park where the tulips are on show. Originally forest land, from the 1600s it was part of the estate of a nearby castle and it was where they sourced herbs, fruit, and vegetables for the kitchens. This is where the name comes from: in Dutch 'keuken hof' translates to 'kitchen garden.'
During the 17th century, tulips found a home in Holland. First brought there by a biologist named Carolus Clusius, it turned out that the climate, sandy earth, and excess of water (much of the country is below sea level) were perfect for growing tulips. And they quickly became massively popular! At the height of the tulip bubble, one single bulb would cost the equivalent of $90,000 in today's US dollars.
Fast forward a few hundred years, and you've got hundreds of well-established bulb growers in the region. The forest and 'kitchen gardens' had been redesigned into an English-style garden in the 1850s, and were less critical to the estate. Bulb growers got together and planned a Spring showcase of their best bulbs, and in 1950 Keukenhof as we know it today opened to the public.
Getting There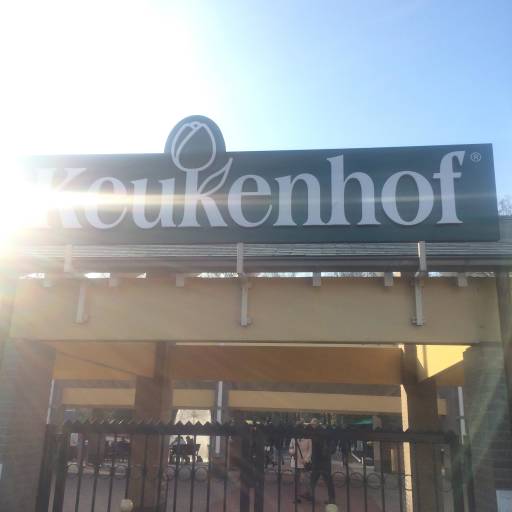 As for my trip, I have to say it was surprisingly easy to plan to get there. They sell a combo ticket for park entrance and a bus that takes you to and from Keukenhof from the airport for €24. Since it would only be for one night, I stayed at one of the airport hotels rather than going into the city of Amsterdam (it's farther from the park and costs more to get there). So it was as simple as getting off a plane, dropping my luggage at the hotel, and hopping on the bus to the park.
Since it's only open for 8 weeks a year, Keukenhof is an unsurprisingly popular place. But I wasn't expecting the massively long line when I got to the bus stop! Even though it curved around the corner, it moved pretty quickly; the buses came more often than they say on the website, and I was crammed in like a sardine within 15 minutes. After a 30-minute journey we arrived at the park.
The Arrival!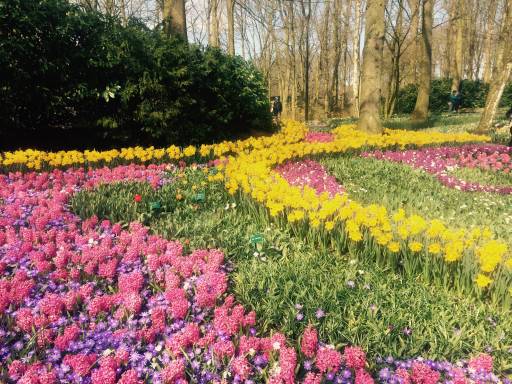 And what a beautiful park it is! Well I guess that's what you get if you rip it out and plant it new every year: a perfectly manicured, easy-flowing, beautiful place with lots of different areas to explore. I started off by going towards The Mill where you can catch a boat to look around the flower fields. The walk took me past some fragrant beds of hyacinths in different colors–so pretty! I also walked down the 'Walk of Fame,' where they plant all of the tulips that are named after Dutch royalty or celebrities. Most of these weren't in bloom but in addition to kings and princesses, some names like Madonna, Cristiano Ronaldo, and Vincent Van Gogh stood out.
Along the way I got side-tracked and found myself in the Willem-Alexander building. From the moment I entered, the continuing sentiment was WOW! I walked through rows and rows of perfect tulips in a building that's probably the length of a football field. On closer inspection I was surprised to see that these perfect flowers were all growing in situ rather than being cut flowers, selected for their perfection. These really were the best in show bulbs from each of the growers being featured. Also, who knew there were so many types of tulips!? Single flower, double flower, late-blooming, early-blooming, fringe, dwarf…the varieties were endless and all on display to see side by side.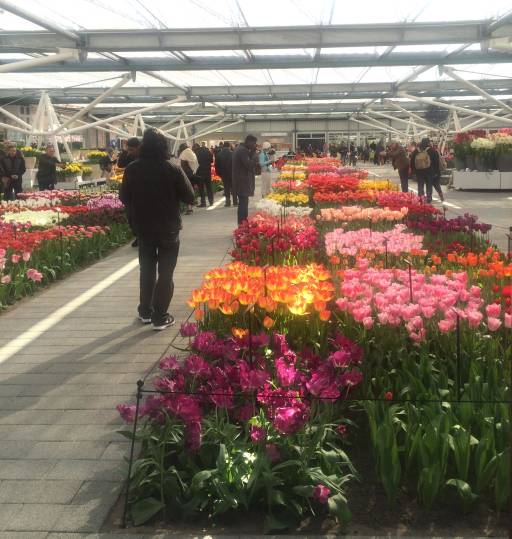 Dotted around the perimeter and amongst the tulip rows were spotlight areas of other sorts of flowers too: cyclamen, lilies, daffodils, hyacinths, lilacs, and more. With so much to see I quickly felt the need for a break and had a seat in one of the glass-covered porticos that runs along both sides of the building. Just outside are canals shaded by cherry blossom trees–it was such a pretty place to sit, have a bite to eat, and inspect the park map to figure out where to go next.
Perfect Timing!
Turns out they give a free daily tour of the park every day at 2pm, so I circled back towards the entrance to join. My tour was led by a Dutchman named Wim who volunteers at Keukenhof every year because he loves the place so much. He told us about the history of Keukenhof (see recap above) and took us on a walk through the park. Wim confirmed my suspicions about the different types of tulips–apparently there are just over 3000 varieties of tulip, and 800 of them are planted throughout Keukenhof. This sounds like a lot (and it is!), but this number was dwarfed by the fact that there are over 13,000 varieties of daffodils!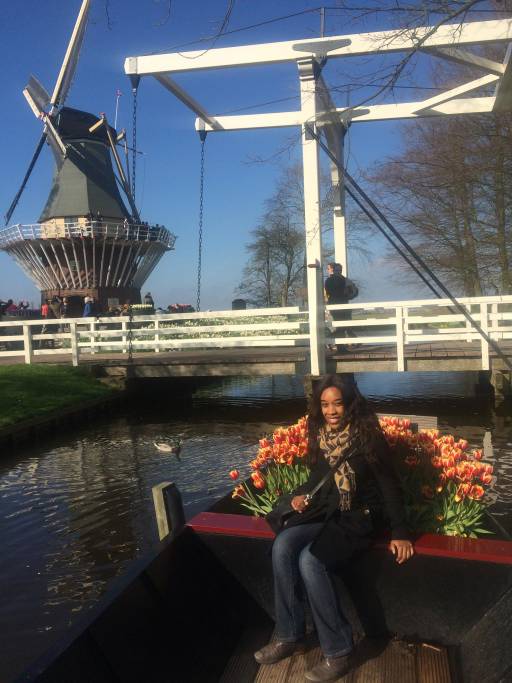 On the walk we passed by rows of sequoia trees (tiny in comparison to the ones in Yosemite); the royal gardens, in place since the 1850s and closest to the English style; the sand dunes, which protected the gardens from the rising canals; a petting zoo and playground; and finally the inspiration gardens, where several designers have created gardens with different themes to give visitors ideas of what can be done with their own gardens at home. The walk was about 40 minutes and we ended by my original destination, the windmill.
Keukenhof's whisper boats were recommended on several blogs and information pages so I was very excited to go for a ride. The electric boats fit about 50 people and glide amongst the flower fields while sharing information from headphones which you plug into the benches. The key attractions are the fields which are often in bloom with rows and rows of different flowers and colors. Unfortunately a cold winter prevented the bloom from coinciding with my visit, so it turned out to be a bit underwhelming, albeit a very peaceful ride!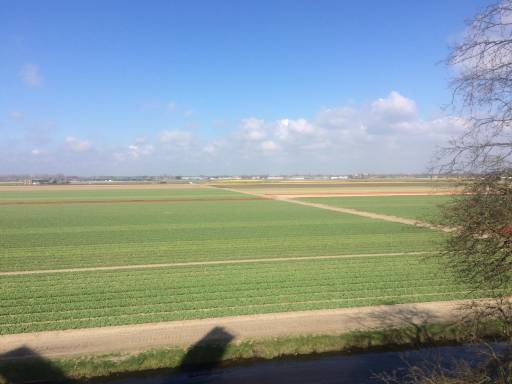 So Much To See!
Back on land and with nowhere in particular to go, the time was right for an aimless wander. One of my favorite outdoor spots of the day turned out the be tucked just around the corner from the windmill. Although it's not specifically highlighted or mentioned on the map, Keukenhof's Japanese-inspired garden is a spot I would certainly say shouldn't be missed. While the flowers are more sparse than other areas of the park, the gurgling brooks, narrow, winding pathways, and high bamboo trees give a feeling of calmness that was unique compared to the rest of the grounds.
Not too far from here was the Beatrix pavilion which housed an impressive orchid show. There were shapes and colors I had never seen before and all different sizes from tiny blooms to plate-sized, beautiful monsters. It was a very popular exhibition, seemingly with just as many people taking extreme close-up photos as there were flowers in the building!
By contrast, the exhibition in the Oranje-Nassau pavilion was markedly less popular, and in my opinion, with good reason. This building is home to the rotating exhibitions which change on a weekly basis throughout the open season. This week gerber daisies were on display, placed in everything from a mannequin-filled pirate scene to a recreation of Vermeer's The Milkmaid painting. All of the different scenes felt a bit disjointed, and after the beautiful, lush beds and displays seen in other parts of the park, sadly the daisies felt a bit boring if I'm being honest!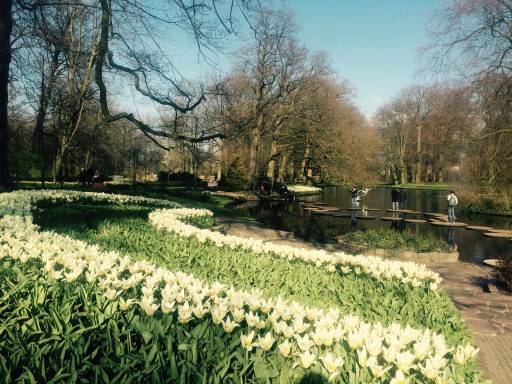 So I quickly took myself back outside to take in the rest of the park. By now the sun was beginning to set, and several of the tour buses must have collected their visiting groups; as a result Keukenhof started to take on a different feel compared to earlier in the day. Several more overflowing tulip beds popped up as I walked through even more undiscovered paths and walkways. There were even some parts where I didn't see any people at all for a time…imagine having this whole park to yourself!
Eventually aiming towards the exit, I found myself in the postcard garden (my name, not theirs)–the part of Keukenhof that you see on all of the calendars, t-shirts, mouse pads, and of course, the postcards. And with good reason! A small lake dotted with swans at the base of a sloping hill covered in sweeping, criss-cross rainbow rows of tulips? It was the piece de resistance! The one spot where in one eyeful you can take in all of the things that make Keukenhof special. It was the perfect place to end the day and appreciate a long-lived wish existing before my eyes.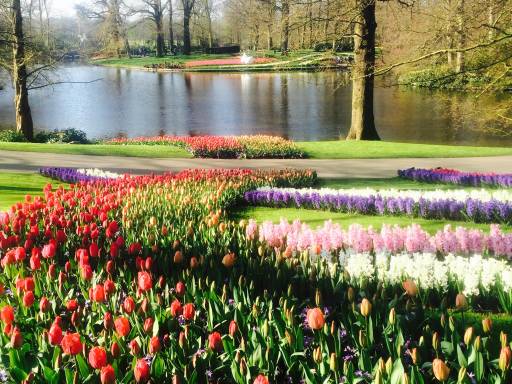 ---
Tags:
---