My holiday in Madagascar was an amazing visit to one of the world's most unique and exciting places. Between its teeming capital city, small coastal villages, brilliant national forests, distinctive wildlife, and open, friendly people, Madagascar gave me so much to appreciate and learn on even a short visit. This series describes my Malagasy holiday from beginning to end. Mankafy!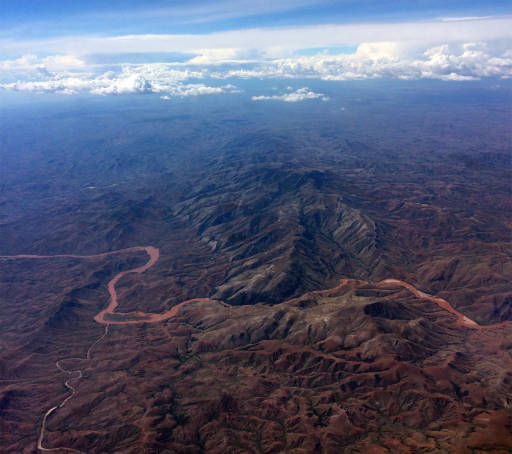 Wow! What a place. This is unlike anywhere I've ever been before. The airport was madness! They just let people in through the passport control area and cut everyone in line, sweet talk the control agents. It was a madhouse!

The landscape from the air is crazy, and looks completely inhospitable. It changes colors quickly: red land like Mars all of a sudden becomes flat brown, then a plateau and everything is bright green. The rivers were pale silty brown and looked like the color of earth, but the winding shape with offshoots and tributaries coming in and out were the only clue that they must have been water.
This was my first impression on arrival into Antananarivo (Tana for short), Madagascar's capital city. I was traveling on my own, and booked the trip fairly last minute to follow a work trip in Johannesburg. I had found a local Malagasy tour company, Asisten Travel, to take me around and make sure I could make the most of my short time, and was glad to meet the first driver Rado as soon as I escaped the airport terminal.
The drive from the airport to the city center took about 45 minutes. At times we were flanked by rice paddies and other times ENDLESS market stalls with so many people shopping and walking around. Rado told me that Saturday is the main shopping day since things are closed Sundays. People come in from all the suburbs to Tana to shop hence the massive amounts of people and cars queuing to leave the city. And it was allsorts—babies on backs, men running carts stacked to the brim, taxi-brousses (taxi vans) with people jumping on and off the moving vehicles, barefoot people, kids playing soccer, zebus , people peeing off the sides of their bicycles…I mean all sorts!
There were so many new things to take in on the drive that by the time I got to the hotel, I was feeling overwhelmed to be on my own in a place so different to anywhere I'd ever traveled before. But with only one free night in the city center for the whole trip, I had to make the most of it. Armed with some directions from the hotel receptionist and as much of the map memorized as possible, I headed out into the city.
I had been warned several times not to draw attention to myself, and definitely not to take my phone out while walking around in Tana. Madagascar is a very poor country and foreigners by their very definition stand out as being rich in comparison. Even locals carry a cheap phone to use in public, saving their smartphone usage (if they have one) for home. So while the white, Asian, and Hispanic tourists I came across stuck out like sore thumbs, I was glad to blend in—even if it meant I couldn't take any pictures!
I soon made it to the Antaninarenina square, a pretty park covered in jacaranda trees which overlooks some lower parts of the city. In the middle of the park was a long descending staircase which took me down to the Analakely market. The market was amazing! Endless tents, huts, and people parked along the road selling EVERYTHING. Socks, underwear, selfie sticks, grains, fruit, strange-looking meats, woven baskets, furniture…everything.
At one point people started whistling and everything went crazy. The sales people gathered up their wares inside the blankets they were selling from and BOOKED IT! The looks on some of their faces—it was like they were running for their lives. Then a few minutes later a worn out van with blown out glass and rusting metal carrying 8 singing police officers drove through slowly, followed by a bigger police truck for carrying people in the back. As soon as they passed, everyone was laughing and the sales pedestals were in their places again.
It started to rain and feel too dark for my tastes so I turned back, glad to have already learned a lesson: don't think about the overwhelm or scariness—go out and experience!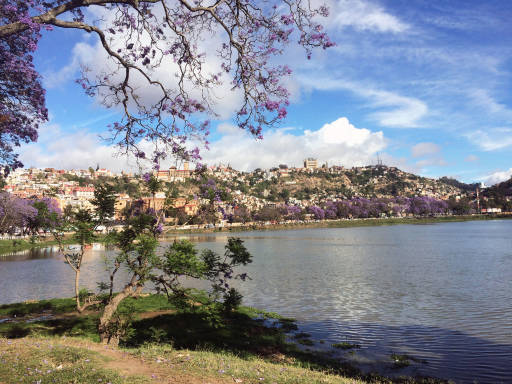 For more in the series...
---
Tags:
---