My holiday in Madagascar was an amazing visit to one of the world's most unique and exciting places. Between its teeming capital city, small coastal villages, brilliant national forests, distinctive wildlife, and open, friendly people, Madagascar gave me so much to appreciate and learn on even a short visit. This series describes my Malagasy holiday from beginning to end. Mankafy! If you are starting in the middle, CLICK HERE to go to the first post.
Being back in the capital city was drastically different to the smaller, less-populated parts of the country I'd been in for the previous few days. So many people everywhere! I arrived late in the afternoon and went straight to my hotel, Au Bois Vert, which was a peaceful oasis, not too far from the airport, set in an otherwise busy neighborhood. By this point I was pretty sick of being gated off inside a westernized bubble (in this case, a very French colonial bubble) when I could hear the music of normal Malagasy life going on within earshot. But at the same time I was pretty exhausted so after a massively disappointing dinner , I just went to bed.
The next morning my guide Hery picked me up and we drove to Ambohimanga, another sacred royal site in Antananarivo, which I could actually see from the Queen's Palace during the first part of my trip. Ambohimanga is a tall hill where royals of the Merina tribe and Malagasy people have lived dating back to the 18th century, and when the country was united under one ruler, it became a sacred spiritual site. Several kings and queens are buried here, and local animists still make pilgrimages to bathe in the sacred water and make offerings to the ancestral spirits.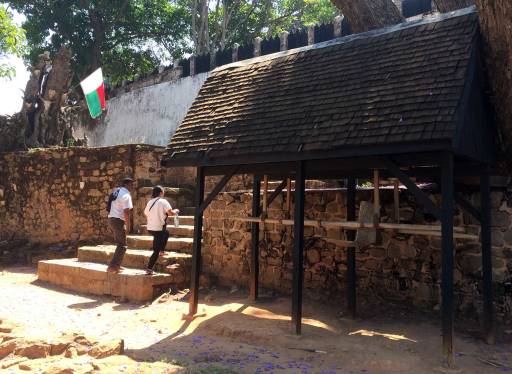 I had an excellent guide (Sebastian) who showed me around the compound, which is now open to tourists and occasionally used for traditional celebrations like the new year festival. It was amazing that these simple, wooden structures were still in place as they had been for hundreds of years, and to see local people trekking up the hill to offer their coins, candles, honey, candies, and blood to the sacred grounds. There is a great reverence to the ancestor spirits adhered to throughout the site, and it's fady (taboo) to enter the royal palace using your left foot, or to exit with your back to the interior. Newer, 19th century meeting rooms and bedrooms still contain the queens' personal belongings and gifts from foreign dignitaries such as England's Queen Victoria.
After leaving Ambohimanga we started heading towards the airport, making a few stops along the way to pick up some souvenirs. Talk about traffic! When I arrived into Tana a week earlier, all of the traffic was leaving the city and we basically coasted into town unhindered. Now, going the opposite direction, it was slow going. With only one lane going in each direction it took nearly 2 hours to drive about 10 km! But thankfully I still had time to pick up some local spices and teas before reaching the airport.
And if arriving into the airport was harrowing, leaving was even more so! The lines kept changing, touts offering to take my bags and help me skip the line (for some cash of course), papers to fill out which I only found out about after getting in the line where I needed to hand in the paper. One airport worker (I think?) helped by filling out the form for me before I could even get two words out, and then condescendingly told me it was "a gift" when I didn't give him any money! Other tourists were clearly frustrated when they arrived at the security line and were told that certain souvenirs must be stored in checked baggage (which, of course, was about 3 lines prior to this one!). And to top it off, just when I was about to make it through security, some VIP lady was whisked in front of me, had privacy curtains drawn for her search, and delayed the whole process even further. By the time I got on the plane I was relieved and a bit shocked I had actually made it through!
But this last taste of organized chaos was the perfect way to leave Madagascar, a place whose beauty, uniqueness, and culture hugely outshine what are really small inconveniences to a western visitor. I hope to make it back some day!
For more in the series...
---
Tags:
---