My holiday in Madagascar was an amazing visit to one of the world's most unique and exciting places. Between its teeming capital city, small coastal villages, brilliant national forests, distinctive wildlife, and open, friendly people, Madagascar gave me so much to appreciate and learn on even a short visit. This series describes my Malagasy holiday from beginning to end. Mankafy! If you are starting in the middle, CLICK HERE to go to the first post.
Last real day in Madagascar! This morning we went to Betania, a fishermen village south of Morondava, accessible only by boat. We met our boat just a short walk away from the hotel, and although the beach was filled with trash and decaying, formerly-alive things, once we were out on the water it was a beautiful scene.
We drifted by the mangroves — evergreen sea trees which grow along the coasts. Then we got out and walked around the village, which is entirely closed off from the modern world. Here I got a very close look at how villagers live throughout the country, and the level of poverty that exists here. To put it simply, if someone has a chair in their home to sit on, they are probably rich by local standards. Forget about electricity or running water.
As a fishing village, the families in Betania put all of their efforts into the trade. When we arrived at the village beach, many boats had just come in with the day's catch, and women and children were helping the fishermen pull the fish off the nets before they would take the catch to the market back in Morondava. Hopefully the earnings would be enough to keep their families fed.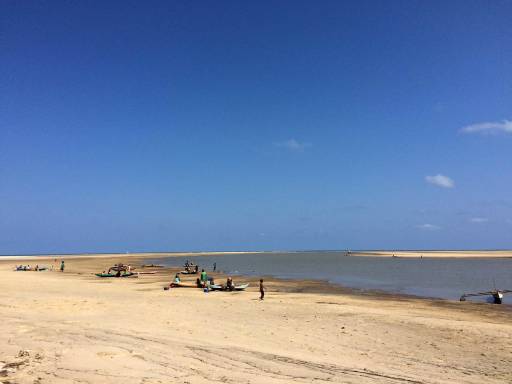 On the beach we also came across several huge boats in different states of construction . Rivo explained that the fishermen will sometimes put their extra earnings into building really big boats that can carry up to 40 tons of fish in order to increase their earnings potential. But because they earn so little it can take 3 years or more to buy the supplies bit by bit and construct each boat. We saw one in progress that looked like it had been abandoned for maybe just as much time .
We also met a woman working with palm leaves to make woven & braided mats. One floor mat will take her four days to make—they were beautifully crafted and back home would probably fetch 10 times as much as she was selling them for.
Our last stop was the local public school where several classes were in session. The teachers I met were very friendly and welcomed me to have a look at what the students were learning. Although the setup was the same as any other classroom (teacher, chalkboard, students), it was impossible not to notice the lack of basic supplies and even clothing.
The whole walk through Betania was an excellent way to spend my last morning on the west coast, and I'm glad to have had a firsthand experience with the daily life of Malagasy people during my trip.
Afterwards we headed back to the airport, and soon took off towards Antananarivo. I got one last glimpse at Boabab Alley from the air, and this time couldn't help but see it as a sad scene. What should have been a lush forest teeming with wildlife was now barren land with baobab matchsticks dotting the surface . I hope the education efforts in Kirindy and other reserves will encourage the local people appreciate its value without destruction. In the meantime I hope this land will stay protected, so that visitors can continue to be drawn into the area and appreciate its remaining beauty while they can. I'm so glad I did!
For more in the series...
---
Tags:
---